Please Call 911 For All Emergencies
HCES is always looking for highly skilled, motivated and professional Paramedics and Emergency Medical Technicians.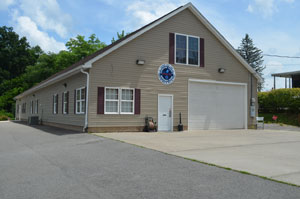 COMPANY BENEFITS:
Superior Equipment
Competitive pay
Medical, Dental, Vision, (Available Full-time)
AD&D – Employer paid for Full-time
STD/LTD – Employer paid for Full-time
8, 12 or 24 hour shifts
Overtime when available
Uniform allowance
In House Training
YMCA Membership (Family discount available)
401K – 100 % match up to 8%, 50% next 2%
Vacation/PTO (Full-time Staff)
Health and Wellness Benefit (Available Full-time)
APPLICANT REQUIRMENTS
Applicants are required to hold current West Virginia EMT-B or EMT-P level certification or have means to obtain such certification through reciprocity, example- NREMT-P or NREMT-B certification). Applicants must have a valid driver's license and possess good communication skills.
Due to the dynamic nature of EMS, applicants should have a firm grasp on all skills and protocols appropriate to his/her level of training.  Applicants must be willing to be subject to a criminal background check and must also pass a drug test screening. Harrison County EMS is an Equal Opportunity Employer.
All qualified applicants will receive consideration for employment without regard to race, religion, belief, color, national, social, ethnic origin, ancestry, sex (including pregnancy), age, veteran status, sexual orientation, gender identity and/or expression, domestic or partnership status, blindness, or disability, or any other characteristic protected by law. Applicants must be fully vaccinated unless you have one of the following exemptions. 
Acceptable proof for approved exemptions includes:
Medical Exemption: Documentation that is signed and dated by a licensed physician or advanced practice provider stating the specific vaccine that is contraindicated and the recognized clinical reason for the contraindication with a statement recommending exemption.
Religious Exemption: For employees) granted a religious exemption(s), you may simply attest on company letterhead that individuals listed were provided a religious exemption.
Finally, for individuals who are not fully vaccinated or who have been granted an exemption, a NIOSH-approved N95 or equivalent mask is to be worn while in the facility.
Applications can be submitted in person at Harrison County EMS located at 1000 N 12th Street, Clarksburg, West Virginia, mailed to Attention Human Resources at 660 Oakmound Road, Clarksburg, West Virginia or emailed to cmcwilliams@hceswv.com.
For more information call 304-326-6600 and select Human Resources Department. Please leave your name and a contact number so we can reach you if we are not available when you call. If you are interested in joining one of the best Emergency Medical Service Company's in West Virginia download your application below.
Applicants have rights under federal employment laws. Which are available for viewing at the links provided below. If you have any questions please feel free to contact us..
EEO – https://www.eeoc.gov/sites/default/files/2022-10/EEOC_KnowYourRights_screen_reader_10_20.pdf
FMLA – https://www.dol.gov/whd/regs/compliance/posters/fmlaen.pdf
EPPA – https://www.dol.gov/whd/regs/compliance/posters/eppac.pdf